A dot-crossing board game
J2ME release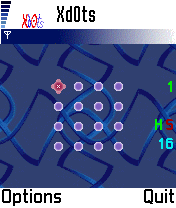 Rules
At each move a player crosses one, two, or three adjacent dots that haven't been crossed previously. A player who gets a position with only one non-crossed dot looses. The implementation allows to modify rules in the following ways:

last wins: the game continues until no available dots remain and a player who has the last move wins. it looks like this modification requires a simpler strategy then the standard rule.
diagonal neighbours: according to standard rues diagonal dots are always adjacent, however you can modify the rules so that diagonal dots are never connected, or connected in case the connection line does not cross anther connection line.
Hardware requirements
Designed to suit any J2ME compatible device with at least 50K memory for a MIDlet and minimum screen size 96x64.. Though colour is an advantage, but the application supports monochrome screen as well. With touchscreen devices you can use stylus, otherwise keypad can be used.
Download

The following packages include JAR, JAD and the manual in pdf format. The manual can be also downloaded separately.




This site does not support OTA . For OTA installation go to Handango
Manual Online
To read the manual online click one of the following links: PDF HTML
Distributors
The applcation can be purchased from one of the following sutes:



---