Xr0w - a simple and challenging board game
(PalmOS release)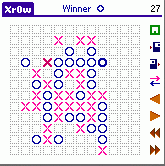 Feel too serious for tic-tac-toe? Check this one. The board size is 12x12 and 5 pieces in a row are needed to win. Both parameters are configurable, along with other parameters, like sound, Palm skill, etc. Play with your friend on same board, play against Palm, or connect to another Palm using your beamer! For Palm-to-Palm mode, low level IR library access is used, that provides a reliable and extremely efficient interface.
Other Xr0w features: colour, support of Handera high resolution (240x240) and jog wheel, save/restore unlimited number of games, game statistics, legacy version for old Palms.
For your convenience, three Xr0w releases are available: colour, monochrome and legacy; this allows keeping a comparatively small size of an application. If your Palm does not have a infra-red beamer, the legacy version is for you, otherwise use colour or monochrome version. Handera high resolution and large-scale board elements are available only to monochrome version.
The following tables provides the summary of features:

FEATURES

Colour

Monochrome

Legacy

RAM size (without saved games)

65K

62K

48K

Required PalmOS version

3.5+

No Limit

No Limit

Colour text and images where supported

Yes

No

No

Handera(tm) 240x240 resolution, if available

No

Yes

No

Large-scale board patterns

No

Yes

No

Palm-to-Palm mode where available
(need PalmOS 3.0+ and IR beamer)

Yes

Yes

No
All other features are present in any release.

Click the following link for screen shots
OTHER LINKS
For Xr0w implementations on other platforms click one of the following links:
---
Maintained by Michael Glickman